Tragedy sounds alarm on care for aged
By Zhu Ping | chinadaily.com.cn | Updated: 2020-01-01 14:41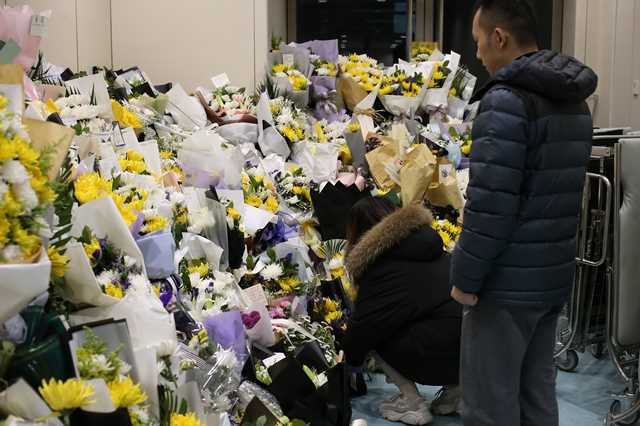 A precious life was lost on Christmas Eve. Yang Wen, a female doctor in Beijing's Civil Aviation General Hospital, was stabbed in the neck by a man named Sun Wenbin, exposing the vulnerability of doctors who dedicate their lives to saving others.
Sun, 55, is the son of a 95-year-old female patient who has been suffering a stroke for years and lately in coma. Four days after the brutal attack, China passed a new law aimed at preventing violence against medical practitioners.
That such brutal attacks should be strongly condemned and the perpetrator brought to justice goes without saying. But the public also needs to think about some deep-rooted social challenges caused by fast aging reflected in the bloody attack.
The elderly woman had been in the emergency ward for nearly 20 days because she couldn't be moved to a normal ward for want of a bed. Which meant the healthcare insurance system may not cover a large part of her medical bill. Sun's family said that was one of the reasons Sun and his family got into conflicts with the hospital. And unfortunately, the doctor became a victim of that conflict.
For years people have been complaining about how difficult it is to get a bed allotted in a hospital, especially in a major hospital. And the growing aging population is increasing the burden on the healthcare insurance system by consuming an increasing part of medical resources.
By the end of 2018, the number of people aged above 60 had reached 249 million, more than 17 percent of the total population. The figure is expected to increase to 255 million in 2020. Since a country with more than 10 percent of its population above 60 is termed an aging society, the seriousness of China's problem should be lost on no one.
The World Health Organization has issued an alert on the dramatically rising pace of aging population across the world. France had almost 150 years to adapt to the rise in aging population from 10 percent to 20 percent of the total, whereas China has to adapt to the change in slightly more than 20 years.
Some official statistics will help gauge the magnitude of China's aging population problem. In 2018, only 9.7 percent of the total working population needed hospitalization compared with 42.1 percent of the retirees. In 2018, the total income of the national medical insurance fund was about 2.13 trillion yuan ($305.90 billion) while the total expenditure was 1.78 trillion yuan. To strike a balance between the income and expenditure of the medical insurance fund, hospitals are assigned different medical insurance quotas. The hospitals are also evaluated on the basis of how frequently they assign a bed to a new patient.
Maybe that's why many hospitals are reluctant to allot a bed to a time - and fund-consuming patient who has a slim hope of recovery, because by allotting a bed to such a patient for a long duration, especially toward the end of the year, hospitals could lose part of their allotted medical insurance quota.
If Sun had been conscientious, he should have been grateful to the hospital and doctors for keeping his mother in the emergency ward instead of venting his anger on the innocent doctor.
Take the case of an 89-year-old woman in Guangzhou. She was forced to shift from one hospital to another in December after suffering a stroke and had to spend her last 44 days in four hospitals. The case indicates how urgently the authorities need to improve the healthcare system to deal with the rising aging population problem.
The aged women in Beijing and Guangzhou are just two of the 44 million aged people who are disabled or partly disabled after suffering a stroke or heart attack, or due to other medical conditions. In fact, Beijing Normal University's sociology department has said that the number of such partly disabled aged people will be between 68.52 million and 75.9 million in 2020, while that of totally disabled aged people will be between 5.99 million and 6.74 million.
The healthcare system and other elderly-care mechanisms are far from prepared to deal with looming aging population challenge.
According to the China National Committee on Aging, in 2020 China will have 29 million people aged above 80. And the WHO has forecast that by 2050 China will have about 125 million people aged above 80. Also, in 2050 at least 100 million of the 480 million people aged above 60 will be partly or totally disabled due to various health conditions.
So apart from increasing investment in quality hospitals, the authorities should also build more public nursing facilities to ease the pressure on hospitals, provide more community services to support aged residents, and use technology to lower the cost of medical and elderly care.
The year 2019 ended on a bloody note for the healthcare and eldercare systems because of the stabbing incident, which showed that not only do our doctors and nurses need protection, but also that the eldercare system needs improvement. So let us take a solemn pledge that from 2020 we will respect and better protect medical practitioners, and do more to improve our care for the elderly.
The author is a writer with China Daily.