Radicals go on rampage during New Year's Day march in HK
China Daily | Updated: 2020-01-02 01:34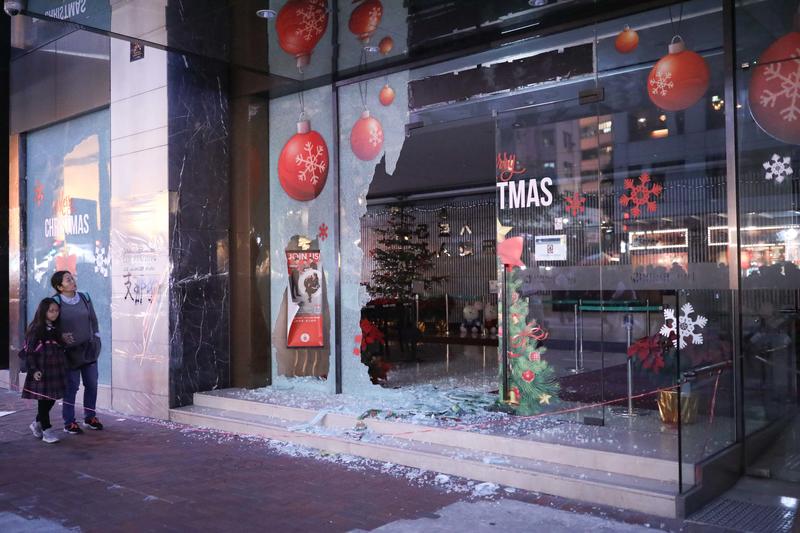 HONG KONG - Radical protesters went on a violent rampage again on Wednesday during a march on the Hong Kong Island.
HSBC became the target of rioters during the afternoon's protest. The glass wall of an HSBC branch on Hennessy Road was smashed by rioters at around 3:50 pm.
Rioters also poured red paint over a lion sculpture outside the HSBC headquarters building in the Central district.
Later in the evening, HSBC condemned acts of vandalism against its property by rioters.
"We strongly condemn the acts of vandalism and damage directed at our premises repeatedly in the past few days. We believe these are unjustified," a spokesperson for HSBC said in a statement, adding that some of its ATMs and banking facilities had been suspended.
"We believe the rule of law is essential to Hong Kong's status as an international financial center and we look forward to the speedy resolution of the issues."
Some spray-painted the protective white planks at the entrance of an HSBC branch in the vicinity of the Victoria Park.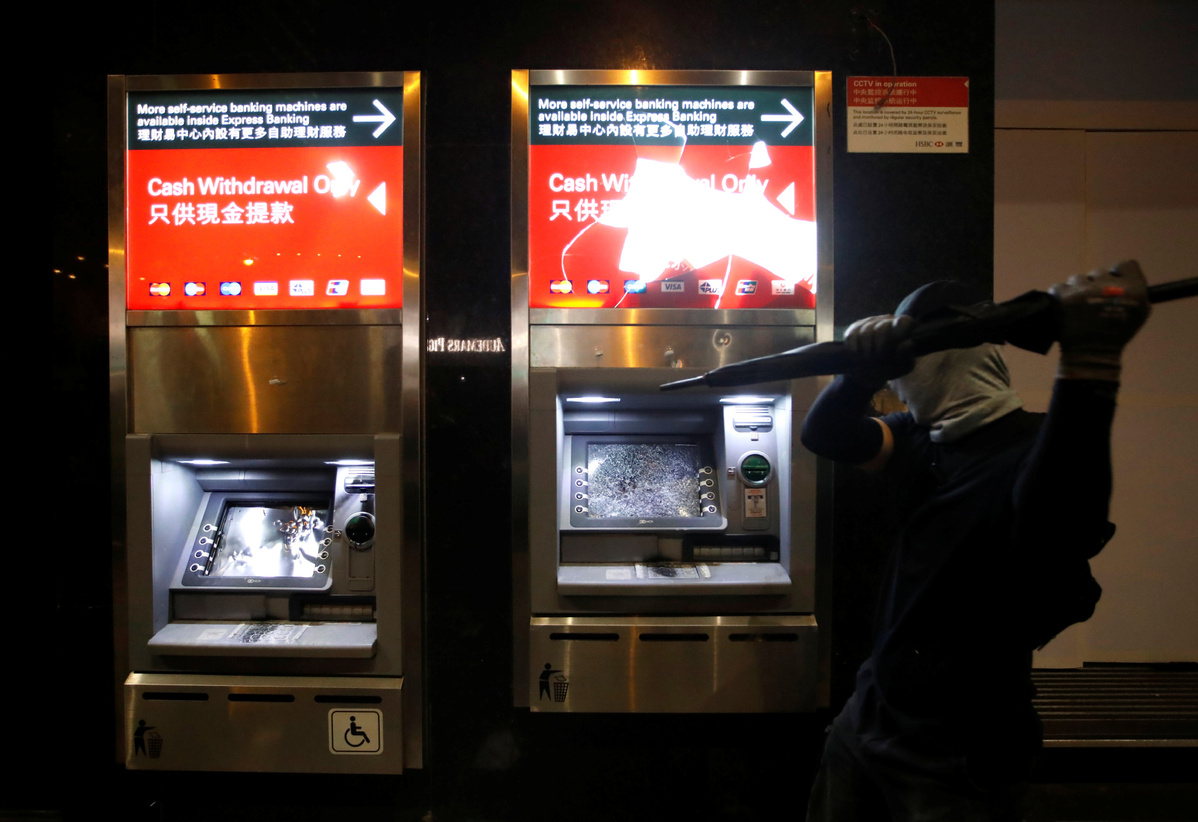 It was not the first time for Hong Kong's largest bank to be targeted by rioters. An HSBC branch in Mong Kok was trashed on Christmas Eve.
Some other businesses also fell victim to the violence on New Year's Day. The glass door of the building of China Life Insurance was smashed by rioters during the demonstration.
The glass windows of a Starbucks cafe in Tin Hau was also smashed, and an outlet of Hui's Brothers Currency Exchange was painted with graffiti.
At around 5 pm, rioters threw trash and gasoline bombs at Luard Road and Hennessey Road, posing a grave threat to public safety, according to the police.
Around an hour later, rioters damaged the traffic lights in the vicinity of Des Voeux Road Central and Pedder Street in the Central district. They also set road barricades with miscellaneous objects. Police have warned the protestors to stop the illegal acts.
As the night fell, masked rioters recklessly vandalized public facilities in Causeway Bay, Wan Chai and Central areas. They dug up bricks from pavements, some even set fire to banks and ATM machines.
Police have deployed minimum force including the use of tear gas to disperse protesters. Five people have been arrested on suspicion of criminal damage, according to a press release issued by the Hong Kong Special Administration Region's government.
The government called on residents to leave as soon as possible after arriving at the finishing point of the march and not to participate in illegal and violent activities, and stressed the police will carry out strict law enforcement.
The government also said it always respects the freedom of residents to hold peaceful assemblies.
Meanwhile, police refuted online rumors that police officers were responsible for the damage at the HSBC branch.
Police strongly rebutted such groundless and fabricated allegation and expressed regret over such rumors which were calculated to discredit police.
With Xinhua inputs