Olympic vision becoming reality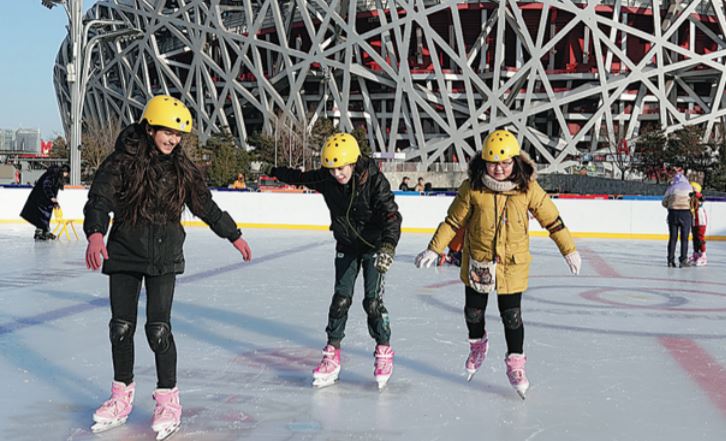 With many venues already in operation, 2022 organizers can reflect on a highly productive 2019
With venues taking shape and test events underway, China's preparations for the 2022 Winter Olympics made huge strides in 2019 as organizers' focus shifted from construction to operation.
The impressive progress is perhaps best illustrated at the National Aquatics Center, the 2008 Summer Olympics venue known as the Water Cube that has recently been transformed into an "Ice Cube" following a year-long renovation project.
Now, four ice sheets lie over the center's original main pool, which has been filled by steel structures to host curling at the Winter Games.
After staging a national junior curling tournament last month, the center this week opened its Olympic-standard curling tracks to the public for experience sessions, making it one of the earliest completed facilities for 2022.
All 13 competition venues will be ready by June this year, according to the 2022 organizing committee.
The Games will be held in three zones, with downtown Beijing staging all ice sports, and the northwest Yanqing district and co-host city Zhangjiakou in Hebei province staging all the snow events.
About 90 kilometers northwest of downtown, the newly built National Alpine Skiing Center at Yanqing's Xiaohaituo Mountain is also a hive of activity these days, with organizers busy grooming the slopes in preparation for an International Ski Federation World Cup meet on Feb 15-16, the first of 15 official test events for the Olympics through early 2021.
Beijing 2022's readiness for competition has also seen FIS World Cup meets for freestyle skiing and snowboarding staged at the Big Air ramp at the capital's Shougang Industrial Park and the halfpipe slope in Zhangjiakou's Chongli district.
Organizers said the smooth progress on venue construction and refurbishment has pushed the ahead-of-schedule preparatory work into a new phase, focused on management and operation.
"Our venue preparation has progressed efficiently over the past year, which has laid a solid foundation for organizing the Olympics to the highest possible standard," said Liu Yumin, director of the planning, construction and sustainable development department of the 2022 organizing committee.