Xi rallies nation for a great cause
chinadaily.com.cn | Updated: 2020-01-02 13:56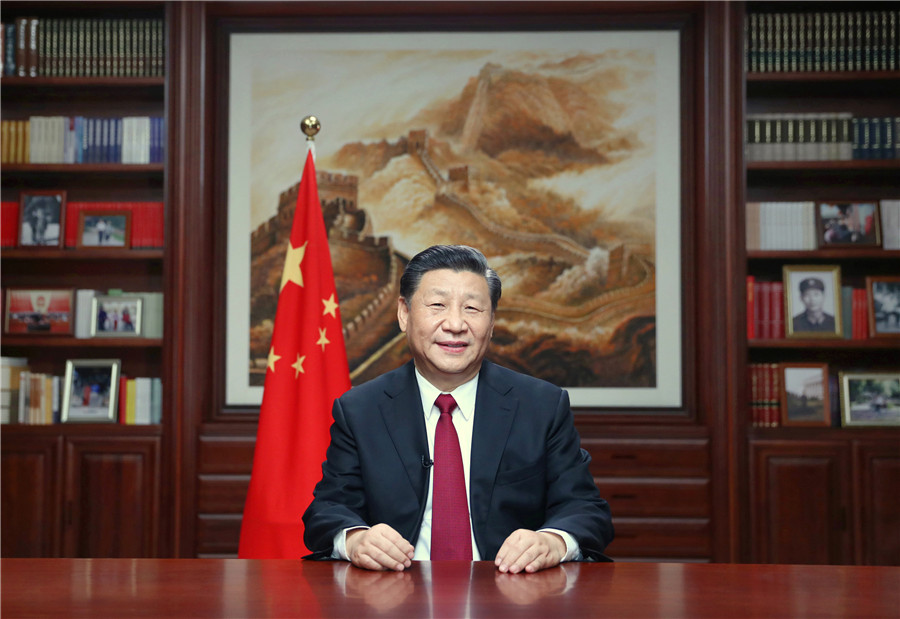 Editor's note: In his New Year's address, President Xi Jinping summarized China's main achievements in 2019. Seven experts share their views on the issue with China Daily's Wang Yiqing, Liu Jianna, Yao Yuxin and Pan Yixuan. Excerpts follow:
The new fight will be against relative poverty
President Xi said that about 340 impoverished counties and more than 10 million people were lifted out of poverty in 2019, and China is expected to secure a decisive victory in eliminating absolute poverty in 2020. Which shows China is on way to eliminating absolute poverty in 2020.
China's successful anti-poverty campaign is no doubt significant for the global fight against poverty. Yet, after eliminating abject poverty, China will focus on eradicating relative poverty and improving Chinese people's living standards. It will also take into consideration factors other than income in setting the "poverty line" and adopting a multi-pronged approach to end poverty.
Besides, China will transform the hyper-normal war against poverty into routine institutional arrangements, following which a series of measures such as strengthening the social security net would be required to tackle the next daunting challenge.
Still, the authorities need to improve coordination between rural and urban areas in poverty-alleviation work to intensify the fight against poverty in cities by, for example, by fixing an "urban poverty line". Indeed, China has to do a lot more to build on the success of the poverty-alleviation work and realize common prosperity.
It should ensure that the positive results are sustainable. For instance, it should take measures to prevent people lifted out of poverty from slipping back into poverty. In addition, a permanent and effective poverty-alleviation mechanism should be established to help poor people to increase their incomes.
Wei Houkai, director of Rural Development Institute, Chinese Academy of Social Sciences
More efficient tech investment
Xi cited a number of technological breakthroughs China made in 2019, including the landing of the lunar probe Chang'e 4 on the far side of the moon, the launching of Long March 5 Y3 rocket, and the commercial application of 5G technology. These achievements can be attributed to China's persistent efforts to build an innovation-driven economy based on scientific and technological research.
Guided by Xi Jinping Thought on Socialism with Chinese Characteristics for a New Era, which upholds innovation-led development, China has boosted investment in technological innovation since the 19th National Congress of the Communist Party of China in 2017 and made some significant progress in the area.
For decades, China lagged behind such high-tech powers as the United States and Japan. But now it is catching up with them, even leading the development of certain advanced technologies including 5G and big data. Looking ahead, the commercial application of 5G can further improve people's lives in 2020.
For sure, it will take time for some technologies to be applied commercially, while some scientific innovations may not yield the desired results given that all innovations come with unknown risks. But that does not mean we should reduce investment in scientific and technological research. The need is to take measures to ensure the investment is used efficiently, and all parties including research institutes, enterprises and the government collaborate to maximize the results.
Huang Qunhui, director of the Institute of Economics, Chinese Academy of Social Sciences
BRI will boost co-development
The development of the China-proposed Belt and Road Initiative gathered pace in 2019. In April, China hosted the Second Belt and Road Forum for International Cooperation, which produced 283 results and a consensus on high-quality development.
Sixteen countries and international organizations signed Belt and Road cooperation documents in 2019, taking the total number of such documents to 199. More than 18,000 trains joined the China-Europe freight service that connects 110 cities on the Eurasian continent, and 409 new air routes were opened between countries along the Belt and Road routes.
The year 2019 also witnessed the progress of policy, infrastructure and funds connectivity, as well as people-to-people exchanges among the Belt and Road economies.
A new Belt and Road phase begins in 2020, in which deeper cooperation among and concrete efforts of economies will help propel high-quality development, and promote global cooperation on building a community with a shared future for mankind.
Liang Haoguang, executive director of the China Academy of Belt and Road Initiative and a professor at Beijing International Studies University
Foreign trade and opening-up in focus
Xi said reform and opening-up have continuously generated vigor for further development, and stressed that in 2019, "China continued to open its arms wide to embrace the world". To boost foreign trade, China set up another batch of pilot free trade zones, expanded the China (Shanghai) Pilot Free Trade Zone, and hosted the second China International Import Expo.
The newly added Lingang Special Area to the China (Shanghai) Pilot Free Trade Zone is part of China's policy to further open up the economy and strengthen the country's competitiveness in the global market. And the plan to establish six new free trade zones in the country shows FTZs will exercise more decision-making powers in terms of trade and investment liberalization, as well as administrative matters.
Besides, the second China International Import Expo demonstrated the country's resolve to fight trade protectionism, and safeguard free trade and economic globalization, so as to inject new vitality into the country's economy, and build a more open world economy.
All these measures indicate China's economy is strong enough to cope with the unexpected challenges that may emerge during the further opening-up process, and Beijing is set to play an even bigger role in the global economy in the future.
Peng Bo, a researcher at the Chinese Academy of International Trade and Economic Cooperation
'One country, two systems' ideal for HK governance
Compared with the previous year's speech, Xi this time dedicated more time to the Hong Kong Special Administrative Region. By reiterating what the Fourth Plenary Session of the 19th Communist Party of China Central Committee said in October, Xi made it clear that "one country, two systems" is critical to the national governance system.
Given the months-long riots sparked by now-shelved extradition amendment bill, Xi's address indicated that China might invest more energy in perfecting "one country, two systems" in 2020.
First, the SAR needs to accelerate legislation on national security as required by Article 23 of the Basic Law of the Hong Kong. But since the situation in Hong Kong is not conducive to promoting such legislation now, the SAR government should first restore social order in the city and thwart any efforts by external forces to interfere in Hong Kong's affairs according to existing rules.
Second, the SAR government also needs to strengthen its governance capacity and communication skills, while the central government should guide and supervise the SAR government to do a better job of governance, as prescribed in the Basic Law.
And third, to prevent outside forces from interfering in Hong Kong's affairs in the future, it is necessary to prepare countermeasures against external forces including the US and "pro-independence forces" in Taiwan that have been fueling the unrest in the SAR.
There is no point blaming "one country, two systems" for Hong Kong ills, because despite certain problems in its implementation in Hong Kong, the governance mechanism has yielded remarkable results in the Macao Special Administrative Region.
Zhang Jian, a researcher on Hong Kong and Macao studies of Shanghai Institutes for International Studies
Tax cut to benefit individual taxpayers
China cut taxes and fees by more than 2 trillion yuan ($287.22 billion) in 2019, and raised the individual income tax threshold. The large-scale tax cut promoted economic stability and raised the expectations of the market, thus laying a solid foundation for higher-quality development in 2020.
For example, the massive tax cut eased the burden of enterprises by reducing their cost of industrial upgrading. The raising of the personal income tax threshold increased individual taxpayers disposable income, which in turn boosted consumption. The higher personal income tax threshold also played a role in expanding the middle-income group and narrowing the income gap.
That some local governments are facing financial strains means 2020 could not see another massive tax reduction, and it's more important to fully implement the current policy of tax cut.
It is more important therefore to ensure the existing tax cut measures are smoothly implemented in 2020. Plus, to strike the right balance between income and expenditure, local governments have to increase their fiscal revenues while preventing expenditure from increasing.
Apart from boosting economic growth in order to increase income, the local governments would do good to optimize the allocation of resources, activate idle assets and explore new growth engines. They should also reduce administrative expenditure by working out a more efficient spending structure.
Liu Shangxi, head of Chinese Academy of Fiscal Sciences
Diplomacy bears rich fruits
With Solomon Islands and Kiribati being added to the list in 2019, China now has diplomatic relations with 180 countries. Which shows China's policy of non-alignment, peaceful development and inclusive partnership is ideal for deepening bilateral ties and boosting co-development.
In fact, China further strengthened its open and inclusive development policy in 2019.
One of the most important diplomatic achievements of China in 2019 was the "phase-one" trade deal with the United States, and so was the conclusion of the negotiations on the Regional Cooperation Economic Partnership. Which, after it is signed this year, could boost regional trade, and thus promote multilateralism and economic globalization.
Still, the China-US trade talks will remain in the spotlight in 2020, with China becoming a favorite topic for the candidates campaigning for the US presidential election.
China's diplomacy yielded other results as well such as the successful hosting of a series of regional and global conferences and expos, while Chinese leaders' visits to neighboring countries such as Russia, India and Vietnam helped deepen bilateral relations.
As for the Belt and Road Initiative, China took measures to ensure it continues to promote co-development with Central Asia, and Central and Eastern Europe, which earned it more global acknowledgement.
And despite multilateral cooperation suffering a blow in 2019, China will continue to take active part in global governance in order to promote free trade and globalization. It will also increase its contributions to global development through Belt and Road projects and urge all parties to help build a community with a shared future for mankind.
Song Wei, a researcher at the National Academy of Development and Strategy and a professor at the School of International Studies, Renmin University of China